Ruben #MooV-Manager
Ruben graduated as an engineer in 2002, manages the MooV operations. Inspired and convinced by the benefits of supply chain and network design optimization, he started the development and deployment of MooV in 2015. He believes in customer-oriented solutions. 'For most strategic questions clients just need the answers - they have no need for a software package'. He enjoys taking in real world strategic questions through client discussions and translating them to the MooV-canvas .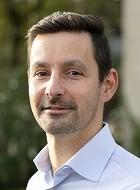 Annelies #MooV developer
After some years of business and research experience, she has conducted a PhD at the University of Leuven. In her research she has developed a comprehensive spatio-temporal optimisation approach for the strategic design and tactical management of supply chains for the bio-based sector. Since 2017, Annelies works intensively on the development of MooV, embedding her expertise on integrating geo-data analytics with network design and optimization modelling as well as on dashboard development. Annelies is passionate about solving complex issues with quantitative modelling and optimization techniques.

Dieter #MooV-functional analyst
Dieter graduated as engineer in 2002 and has since worked on a wide variety of sustainability issues from the very practical in-the-field operations and logistics of supply chains to research and policy at international level in the fields of sustainable forest management, biomass, energy and climate. He coordinated a wide variety of projects from logging operations in Central Africa, small-scale projects in South America up to research projects in Europe. As a member of the MooV team he works on the interface of the model's performance and client needs.