[2021] QUALISEA - Sustainable seaweed supply chains
MooV services the development a strategic planning and decision-making model for seaweed supply chains from sea-to shore & shore-to-customer.
Client: ERA-NET COFUND BLUEBIO - Coordinated R&D funding scheme to strengthen Europe's position in the Blue Bioeconomy
Includes: sea routes, vessel capacity, seaweed cultivation locations, on-shore existing facilities (e.g. fishery), operational data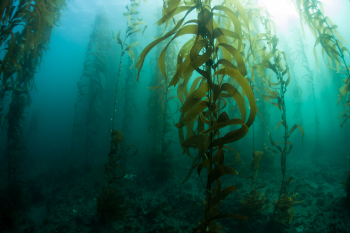 [2021] BBTWINS - Agri-food Value Chain Digitalisation
MooV assists in the digitalisation of agri-food production processes. Digital twins are a powerful tool that allow to simulate and optimise different scenarios - identifying improvements that really matter.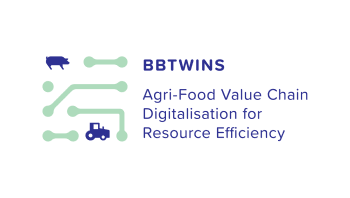 [2021] Covid Vaccine Distribution Strategies
Distribution strategies for the Covid vaccine: Free up hands in hospitals and reduce the risk of losing doses
MooV jointly with UAntwerp showed supply chain optimization supports flexible and adaptable plans for vaccine distribution.
[2021] Rural Parcel Deliveries
MooV tackles last-mile optimisation for postal packages in rural areas
MooV investigates potential efficiency gains of shared cross-dock capacity in delivery of postal packages in rural areas.  
Client: Flanders Logistics Innovation Platform - VIL
Includes: optimisation of economic, ecologic & societal cost, cross-dock hub - consolidation centers & service points , pilot decision support, parcel typology differentiation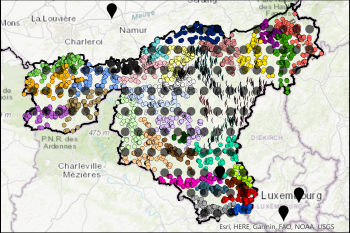 [2019] NIBCON - Matching local biomass feedstock with biorefinery demand
[2019] Building Hubs
Building Hubs reduce logistic costs for building materials with more than 40%.
MooV assessed the relevance of building hubs as a new business concept for building sites.
Client: Flanders Logistics Innovation Platform - VIL
Includes: Multiple product and material flows, milk runs, routing, multimodal logistics, mileage, operational and investment costs, scenario comparison as-is & to-be, value-added logistics, load and storage capacities.
Full report available at VIL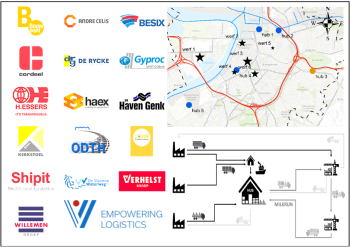 [2018] GRASSIFICATION – MOBILISATION STRATEGIES FOR BIOMASS RESOURCES
Optimising biomass sourcing area reduces mobilization costs. Collection cost can drop below 40€ per tonne.
MooV designs a mobilisation network for grassy material from verge to bio-composites, bio-gas or soil enhancer.
 Main Conclusions Full Report Website
Client: European Union – Interreg – 2Seas
Includes: geo-data analytics, analysis of the competitive/cooperative landscape, product quality effects and grades, peak supply management, multiple processing options, back-loops, cost analysis.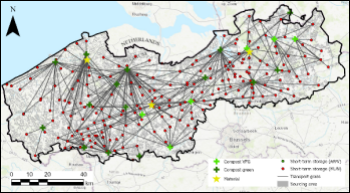 [2018] BIOMASS HUBS - Optimal mobilisation of biomass from landscape management
 Strategic support for the optimal mobilisation of biomass through a network of bio-hubs.
Client: Flemish Waste & Material Agency - OVAM
Includes: Cost minimisation, central vs distributed design, storage capacities, multiple end-product options (material – energy), time-effects (seasonality and harvest cycles), GIS-analysis, dash-board interface.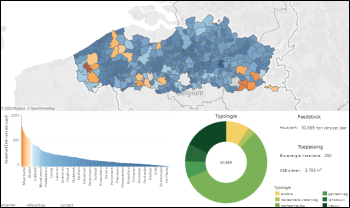 [2017] BIOWOOD - Optimisation of local wood chains for high-value products
MooV assists in the optimisation of the future value chain based on local woody biomass towards high value agro-industrial end products in Flanders.
Client: Flemish Agency for Innovation & Entrepreneurship

Includes: Cost reduction, reduction of greenhouse gas emissions, multiple end-products, cascading hierarchy of resources, game-theory to reflect conflicting end-user interest, scenario analysis of bio factory locations and capacities.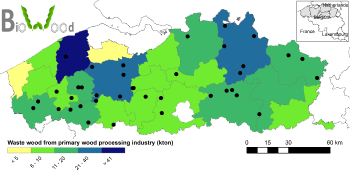 [2017] IDEA – DESIGNING ALGAE-BASED SUPPLY CHAINS
Individual algae growers preferentially need to cluster to match demand of commercial size processing equipment.
MooV defines viable algae-based value chains investigating impact of the size of individual growers, mobility of harvest equipment and regional characteristics (e.g. heating needs).
Client: European Union – Interreg – North-West Europe
Includes: Cost minimisation, geo-data analytics, seasonality effects, storage requirements (drying, freezing), multiple end-products (colorants, cosmetics, food, feed), likely production sites, web-based dashboard.